29Metals is committed to:
implementing enduring strategies for key environmental performance priorities, including:
-          responsible use of natural resources
-          reducing waste generation at our operating sites
-          identifying opportunities to reduce carbon emissions intensity
formally integrating climate change risks and opportunities into our business processes, through our roadmap to align with TCFD recommendations.
Actions on climate change
29Metals is committed to contributing to the global effort to respond to the impacts of climate change, including identifying and implementing strategies to reduce the carbon intensity of our business activities. Following the IPO, 29Metals has advanced its approach to action on climate change in two key areas:
the development of a roadmap to align with the recommendations of the Taskforce on Climate-related Financial Disclosures (the 'TCFD'); and
identifying opportunities to collaborate on climate action.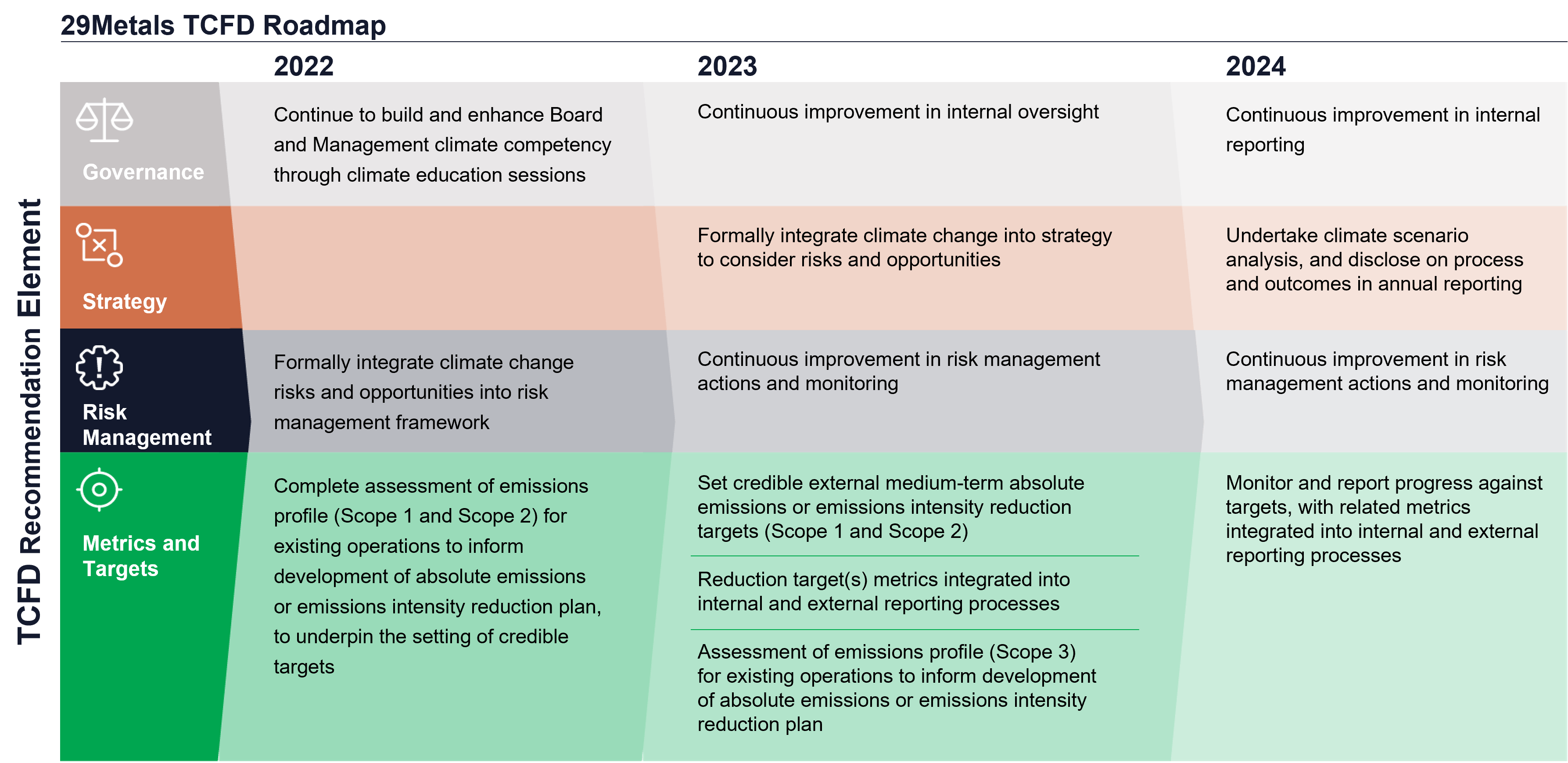 Our priorities for 2022
Key priorities for 29Metals in the core dimension Responsible Environmental Stewardship (including action on climate change) include:
Develop and launch 29Metals' roadmap for aligning with TCFD recommendations - Roadmap launched in 29Metals' 2021 Annual Report
Implement 2022 actions in 29Metals' roadmap for aligning with TCFD recommendations
Reduce water levels in Capricorn Copper regulated facilities and improve operating water balance
Industry collaboration – advance existing collaboration activities (ICAA and Copper String 2.0), and identify collaboration opportunities with business partners and customers
Complete gap analysis for application of ICMM Global Tailings Management Standard at 29Metals operating sites
Implementation of paste-fill operations at Golden Grove, reducing the volume of tailings stored in surface tailings management facilities
Improve data collection and analytics for environmental stewardship metrics to inform future actions and priorities
Reduce volume of water withdrawn from the environment for mining operations
Commence transition to Progressive Rehabilitation and Closure Plan at Capricorn Copper